The Studio Experience (Reservation Required)
STEP1 Reservation
Choose your favorite plan and reserve your session from our web page or by phone.
By Telephone

When making your reservation by phone, please tell us your preferred date, plan and any desired options
TEL: 070-6455-9831 / 10:00〜18:00[closed on Sunday and Japanese national holidays]
By Internet

Our reservation web page is available 24 hours a day for your convenience. You can also check for date availability anytime through the internet.
*Should there be any conflicts in scheduling, the earlier reservation will be honored.
We will send you an email after receiving your on-line reservation request.
Please reply to our email to confirm your reservation. If your reply is not received within 7 days (or a day before your reservation if made with less than 7 days), your reservation may be considered to be cancelled. Please email or call us if you do not receive an email from us confirming your reservation within 3 business days.
STEP2 Welcome to our studio - On the Day of the Photo Shoot
The photo session lasts from 1.5 to 2.5 hours, depending on your chosen plan and options.
Please arrive at the studio by your appointed time. Should you arrive late, your photo session may be shortened.
STEP3 Reception
At the reception, we will go over your selected plan in detail, help you pick out your kimono,and explain to you all of your options.
STEP4 Preparation and Kimono Experience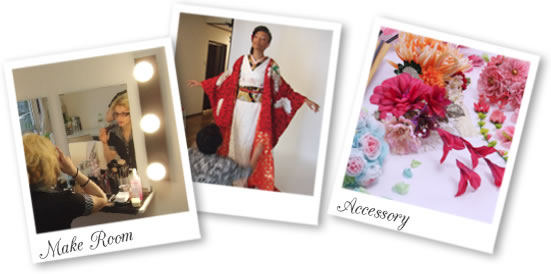 We will help to dress you in your beautiful kimono and arrange your hair in a natural way with Japanese hair accessories.
(Optional services by a professional hair dresser and make-up artist can also be arranged.)
STEP5 Portrait Sitting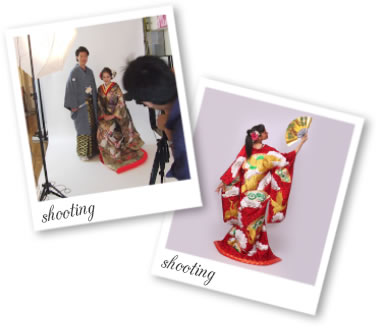 Enjoy your photo session with authentic Japanese Kimono!
After the photo session, we will help you to change back into your own outfit.
STEP6 Photo selection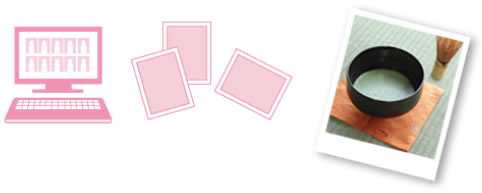 Choose your favorite poses on the monitor for printing and data saving according to your selected plan.
We will serve you Japanese powdered green tea, please enjoy Japanese culture and hospitality.
STEP7 Payment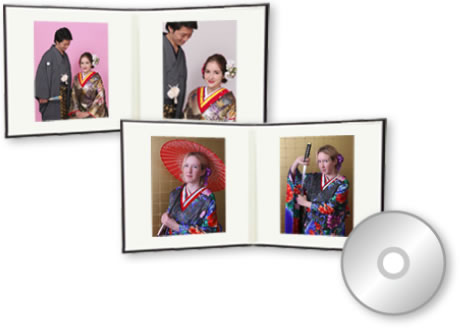 Your photos and data CD-R will be provided to you right-away. Please make your payment by cash or major credit card.
Image data from your photo session will be destroyed after 2 weeks to protect your privacy.
In rare cases your computer may be incompatible with the data CD-R. Please verify that the image data can be accessed at your earliest convenience.
Please Note
Your portrait sitting does not include make-up as make-up techniques and preferences vary widely.
However, there will be basic eye, eyebrow, and lip cosmetics available for you to touch-up before your sitting.